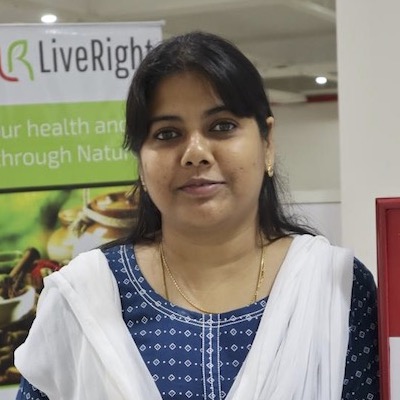 Specialty:
Wellness Coach | Leadership Trainer
Expertise:
Ayurveda, Counselling & Psychotherapy
Length of Work:
Since two decades
Address:
No. 26/31, Flat No.10, Srijees Apartment, Circular Road, Kodambakkam, Chennai
Specialized in treating Lifestyle Disorders
Herbal Research Methodologies
Cognitive and Behavioural Psychotherapist
Corporate/Workplace Wellness Training
Executive Leadership Trainer
BAMS., MBA (HM)., MSc.Counseling & Psychotherapy, Data Analytics for Marketing (IIMK), Advance Leadership Trainer (CE)
As a competent Clinician and a Psychotherapist, I've cured chronic ailments, designed corporate wellness, invented herbal drugs, and mentored for career success. I would love to share my experience with you all to build a proper life-work balance.
Being an Ayurvedic practitioner and a strong follower for nearly two decades, I believe a strong determination and self-discipline towards health leads to success in life. Optimizing physical, emotional, mental, and societal health brings productivity and allows us to taste the benefits of peace, material success, relationship goals.
Ayurveda holds me fit—physically and emotionally—for more than two decades while I aced in my career. I love to help my peer to excel in their own life by balancing their body and mind.
Anytime is a good time but I love to make it a valuable conversation if you reach out to me for your needs. Good things all begin with a small hi and ends with a big successful hi-five.
{{ reviewsTotal }}
Review
{{ reviewsTotal }}
Reviews